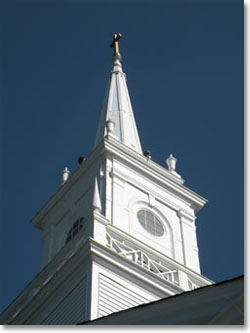 Welcome to our Parish!
We the Catholic Parish of St. Louis de France, founded in 1928 are dedicated to bringing people closer to God through the Church by shaping their lives in a way beneficial to themselves, their family and the community. We are committed to being a family of support and encouragement in our faith by providing a place of worship that is welcoming and inspiring.
We seek to become a true community of believers, attracting young people and families while reaching out to passive parishioners so that together we may achieve greater strength and involvement in our faith.
Join Our Parish Family!
If you wish to become a member of Saint Louis de France Parish, we are pleased to have you join us. Please click HERE and download our registration form. This sheet gives us the information we need to serve you and your family.
Thank you for choosing us as your parish family.
Saturday Masses
4:00 PM
Sunday Masses
7:30 AM – 9:30 AM – 11:00 AM
Weekday Masses
Monday – Thursday 8:00 AM
Masses on Holy Days & Holidays
As announced inside the bulletin and/or as posted on the church bulletin board.
Confessions
Saturdays from 3:00PM to 3:45 PM and by appointment with the Pastor.
Parish Office Hours
Mon. – Thurs.: 9:00 AM – 3:30 PM
View our weekly bulletin!
Latest Parish News and Announcements
Join Fr. Jim Fitzpatrick and Fr. Fred Babiczuk for a Pilgrimage to the Holy Land. The 10-day…
Bishop's Announcement Letter
Dear Friends, This Sunday we celebrate the First Communion of eighteen of our Second Graders who…